Live Web Event: The iCFO Virtual Investor Conference - San Antonio, TX
Live Web Event: The iCFO Virtual Investor Conference - San Antonio, TX 

Please join us for the iCFO Capital Global Virtual Investor Conference - San Antonio.
On May 23rd, CEOs and top executives from across the country will present live. Attendees will be able to ask the speaker questions in real time and interact with other investors. Each presenting company will feature game-changing technologies and innovative business models across multiple industries.


This is a Virtual gathering of sophisticated private equity Investors, Institutional Investors, Angel Investors, VCs, Family Offices, Wealth Managers, and other Investment Professionals, to discover High Quality & Cutting edge early and later-stage growth-oriented companies. (Attendance is free to investors.)
The agenda will feature a combination of presentations, networking sessions, and the opportunity for investors to meet with management of presenting companies on a Virtual one-on-one basis.
Pre-arranged Virtual one-on-one meetings for presenting companies and investment professionals
Virtual Networking Sessions
Company Presentations by CEO's of Growth, Early & Later Stage Companies
Deal flow sourcing networking
A full agenda of Presenting Companies

Presenting Company Benefits
Private Equity funds, Venture Capitalists, Angel Investors, Family Offices, and Wealth Managers, among others.
Virtual networking meetings with selected investment professionals.
Save Substantial Time Finding and Reaching Qualified Investors.
Maximize exposure, feedback, guidance, and potential funding!
Get Valuable Input from Partners of Foremost Investment Groups.
Improve your Leverage with Investors for Better Deal Terms
Discover New Investors and Partnership Opportunities to Build your Company.
Build Personal relationships with investors and investment professionals
Virtual Networking Reception for maximum exposure
Your company summary is printed in our conference material to be emailed to webinar attendees.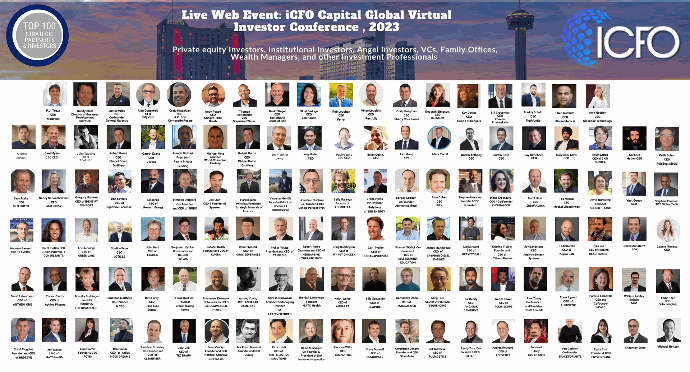 Presenting Companies
(Click on the registration to see updated exhibiting and presenting companies)
To learn more about the presenting companies sign up for free at www.Deals2Match.com



iCFO Capital Alternative Funding Solutions
iCFO Capital has launched our Revenue Base Funding program to provide alternative funding solutions for early-stage and expand growth companies.
iCFO Capital has launched our Revenue Base Funding program to provide alternative funding solutions for early-stage and expand growth companies. Our capital resources are a family office that makes unsecured, non-dilutive investments in both public and private companies. Our model relies heavily on a company's ability to generate revenues while not on their assets, or positive free cash flow.
https://www.linkedin.com/pulse/icfo-capital-has-launched-our-revenue-base-funding-program-thetsy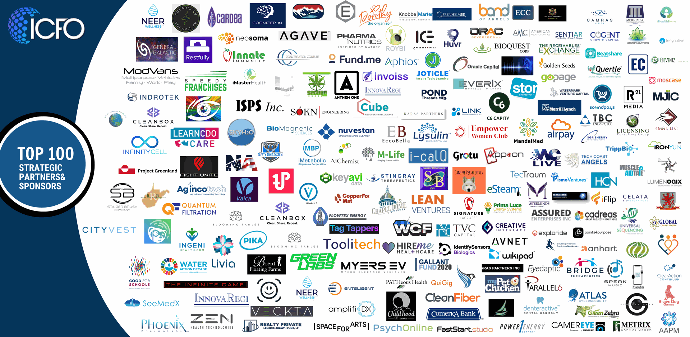 Sponsors and Strategic Partners
New conference partners and sponsors are working closely with iCFO Capital in 2022 to bring added value to our clients and members. Contact iCFO Capital to be personally introduced to our sponsoring organizations.
Corporate Office
iCFO Capital Global, Inc. - San Diego, California

Khris Thetsy, Managing Director | (619) 956-9114 Ext 1003 | https://kthetsy@myicfos.com/

Robert Ruiz, VP of Operation | (619) 956-9114 Ext 1001 | https://rruiz@myicfos.com/

Jessica Santos, VP of Administration | (619) 956-9114 Ext 1000 | https://jsantos@myicfos.com/

Gilbert Ochoa, Executive VP | (619) 956-9114 Ext 1005 | https://gilbert@myicfos.com/

Johnny Rivera, Account Manager | (619) 956-9114 Ext 1006 | https://jrivera@myicfos.com/

Carlos Garcia, Account Associate | (619) 956-9114 Ext 1002 | https://cgarcia@myicfos.com/



For more information about our company visit our website at https://www.icfocapital.com/private-equity