iCFO Capital Global Referral Rewards: Empowering Growth Together

At iCFO Capital Global, we recognize the importance of establishing strong relationships within the business community. That's why we're excited to introduce our innovative Business Referral Program, designed to benefit both our valued clients and the businesses they refer. Our program is a testament to our commitment to fostering collaboration and growth across industries. Here's how it works and why you should consider participating: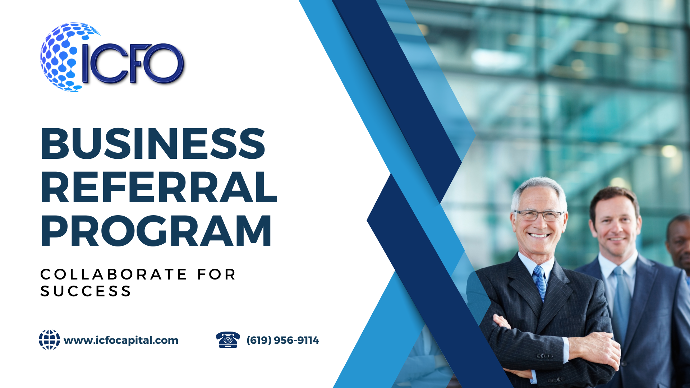 Program Overview:

---
The iCFO Capital Global Business Referral Program is a mutually beneficial initiative that rewards participants for referring companies seeking investor relations, capital acquisition, and financial growth solutions. By referring businesses to us, you're not only helping them access the expertise and support they need, but you're also contributing to our shared goal of fostering economic development and innovation.

---
Financial Rewards:

As a token of appreciation for your support, our Business Referral Program offers attractive financial incentives for every successful referral that results in a partnership with iCFO Capital Global. We believe in recognizing your efforts and commitment to promoting collaboration within the business world.

Expanded Network:

Participating in our program opens doors to expanding your professional network. You'll have the opportunity to connect with like-minded individuals who share an interest in business growth, investment, and financial strategy. These connections can lead to new partnerships, collaborations, and insights.

Enhanced Reputation:

Being associated with iCFO Capital Global's reputable name can enhance your own business's credibility. It demonstrates that you're committed to helping businesses thrive and succeed, even beyond your core offerings.

Contribution to Growth:

By referring companies to iCFO Capital Global, you're actively contributing to their growth and success. You're providing them with access to a suite of services that can be transformative for their financial future, which can lead to stronger businesses and a more vibrant business ecosystem overall.

Terms and conditions apply. Offer valid for qualified leads referred within the campaign period. Credit expiry after 1 year from the date of issuance.