RAISING CAPITAL
TO NEW HEIGHTS

iCFO Capital Global helps early-stage companies
to gain access to capital.
We believe that any successful financing strategy is based upon thorough preparation prior to showing your opportunity to a potential investor. Our approach is to assist each client with creating a capital acquisition program by fine-tuning a comprehensive package of information upon which our investors can base their funding decisions.

Meet Our Investors At The Upcoming Event.
OUR STRATEGIC PARTNERS & SPONSORS

New strategic partners and sponsors are working closely with iCFO in 2023 to bring added value to our clients and members. Contact iCFO to be personally introduced to one of our sponsoring organizations.

RUNNING A BUSINESS IS A FULL-TIME JOB
AND SO IS FUNDING A BUSINESS.

---
Find Angel investors, or strategic investors through our proven online investment platform. We transform how deals get discovered and transactions get done.

ACQUISITION | BRIDGE CAPITAL | GROWTH EXPANSION | BUY OUT

---
Get you cash flow back on track. Extraordinary reach, extraordinary results.

WE WELCOME EARLY & LATER STAGE COMPANIES

---
Access to funding resources Present your business ideas to investors Nationwide search for Accredited Investors

SIMPLE FUNDING SOLUTIONS FLEXIBLE

---
Our model relies heavily on a company's ability to generate revenues while not on their assets, or positive free cash flow.

30% OF OUR CLIENTS ARE PRE-REVENUE

---
Our Venture partner supports emerging growth companies' innovation is becoming dominant in their categories or creating entirely new ones.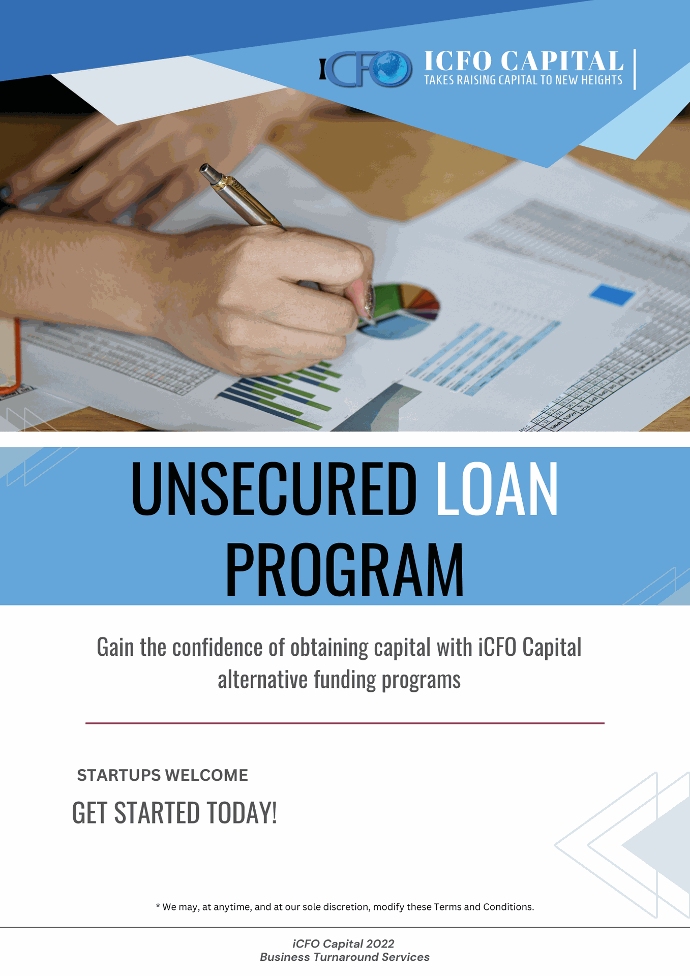 A LOAN PROGRAM THAT DOES NOT ASK FOR ANY BUSINESS RECORDS

---
Gain the confidence of obtaining capital with iCFO Capital alternative funding programs

Our Investment Conference
Access to investors & funding sources
This event will feature a combination of presenting companies, investors, and investment professionals, breakout sessions, venture forums, one-on-one investor meetings, and networking. The summit is designed to connect investors with entrepreneurs, CEOs, and Business Brokers, among others, while providing valuable workshops, speakers, and networking events.